A Conversation larger than the Universe was an exhibition on view at The Grolier Club in New York City from 25 January through 10 March 2018. A Conversation larger than the Universe is a history of science fiction in seventy literary artefacts and a highly personal tour through the bookshelves of Henry Wessells. The books (many signed or inscribed by their authors), magazines, manuscripts, letters, and artwork date from the mid-eighteenth century to the present and explore the ideas and people that have defined the literatures of the fantastic, from Mary Shelley and H. G. Wells to Philip K. Dick, Joanna Russ, James Tiptree, Jr., and William Gibson, as well as works by W. H. Hudson, Richard Jefferies, and others not so widely known today. Beginning with the origins of science fiction in the Gothic, this 'Conversation' contemplates topics such as the End of the World (and After), Imaginary Voyages, Dystopia, Women Authors, Literary Innovation, Humor, the Sixties, Rock 'n' Roll, Cyberpunk, Steampunk, and what's happening in science fiction and the fantastic right now. The exhibition adopts a broad description of Science Fiction encompassing Fantasy and Horror as well as bibliography and scholarship in the field.
The EXHIBITION tab on this website presents a record of the books and other materials exhibited
The Grolier Club has posted photos of the exhibition installation here: https://www.flickr.com/photos/grolierclub/sets/72157668998324669
— — — —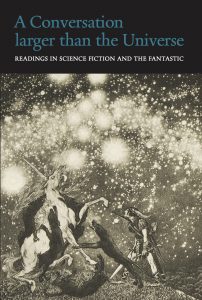 A Conversation larger than the Universe. Readings in Science Fiction and the Fantastic 1762-2017 is an illustrated collection of essays to accompany the exhibition, including a descriptive checklist of the materials on view, published by The Grolier Club. The book includes 'A Hatful of Adjectives', an original Foreword by John Crowley. Book design by Jerry Kelly. Several sections of the book appeared in Wormwood, Foundation, and The New York Review of Science Fiction in advance of book publication.
Size : 6 x 9 inches, trade paperback, pictorial wrappers with french flaps. 288 pp. With more than 100 illustrations; index. ISBN 978-1-60583-074-2. Price: $35.00. ORDER A COPY.
— — — —
Subscriber Edition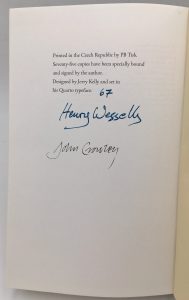 A Conversation larger than the Universe. Readings in Science Fiction and the Fantastic 1762-2017
By Henry Wessells
Foreword by John Crowley
Issued with an original short short story, Reading in Public, by Michael Swanwick.
Published by Temporary Culture in an edition of 75 copies, signed by John Crowley and Henry Wessells.
6-1/8 x 9-1/2 inches, 288 pp. With more than 100 illustrations; index.
Hand bound in sand cloth with letterpress label.
With: Reading in Public (stitched in blue Hahnemühle wrappers with printed label, signed by Michael Swanwick).
Note: Reading in Public is original to this edition and does not form part of the trade edition.
ISBN 978-0-9961359-4-8. Price: $300.00. ORDER A COPY.
— — — —
Reviews & Related Publicity
"erudite and altogether fascinating . . . In the year of Frankenstein's bicentennial, this is essential reading"
— Publishers Weekly
'a stunning exhibition'
Gary Wolfe reviewed the book in the January issue of Locus magazine.
Michael Dirda reviewed the book in the Washington Post on publication day (25 January 2018).
Mark Valentine conducted a two-part interview in the week prior to publication for Wormwoodiana, part one on 17 January and part two on 18 January.
Gil Roth interviewed Henry Wessells for the Virtual Memories podcast (show 255, 5 February 2018).
A British publication, Tank Magazine, also reviewed the exhibition. The Library of America published a short illustrated interview on Friday 2 March.
The Book Collector (for Spring 2018) called the Conversation "much more than a catalogue; it is an engaging illustrated history of a sometimes undervalued genre . . . a most enlightening assemblage."
Andy Sawyer reviewed the book for issue 131 of the U.K.-based Foundation: the international review of science fiction and observed "[d]isguised as a catalogue, this is an extremely valuable book about what we think of the fantastic and why."
Locus magazine included the book on its Recommended Reading List.