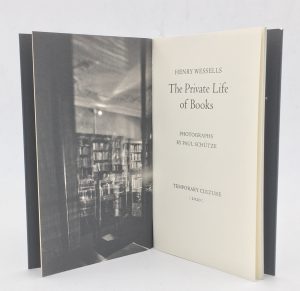 How does a book get written?
The Private Life of Books is a sequence of six poems composed over a period of fourteen years. Even that single sentence conceals as much as it discloses. In my personal and professional life I look at books and think about them. The Private Life of Books is that thinking put down on paper. The title poem has its origins in a worn, heavily annotated book that came across my desk one day. The other poems in the sequence are about the idea of books as much as they are about (or for) people whom I have known, as reader, writer, bookseller, and friend. I wrote the first poem in August 2001, and part of the second poem (How books are made) a year or so later. Then there was a long interval of silence. After four years, I knew how to finish the second poem, and to begin or write three more within a year (two marking the deaths of friends). I had sent these off to various journals as they were written, to further silence. The poems are unrhymed irregular sonnets somewhat after the manner of Ted Berrigan. There are no footnotes to any of the poems.
The photographs are inseparable from the book. Paul Schütze, an Australian-born artist long resident in London, explores perception and the senses. His art encompasses music, photography, and scent. Some years ago he began a series of nocturnes, photographs by ambient or diminishing light at the John Soane Museum, at booksellers Maggs Bros. (then in Berkeley Square), and in other interesting spaces. Ed Maggs introduced us and the collaboration on The Private Life of Books is the result. I asked Jerry Kelly to design the book, and he was resilient enough to incorporate a sixth, unexpected poem written while the book was in proof.
In September 2014, the first edition was published. The reviewer for The Book Collector caught the mood: "marvellously sombre". Another reader described The Private Life of Books as a Gesamtkunstwerk in book form. One of the original subscribers was Dan Wechsler, producer of The Booksellers, a documentary on the world of rare books in New York City. Director D.W. Young asked me to read the title poem in various shops and offices during the production of the film. Each take was successful, except for the intrusion of unmistakable New York sounds: a police siren, the whir of an air conditioner, or a door slamming in the distance. So, late in the process, I made a recording in a studio, which was used as the concluding voiceover to the film.
This second edition of The Private Life of Books, also designed by Jerry Kelly, includes all the photographs of the original edition in smaller format. Happy reading!