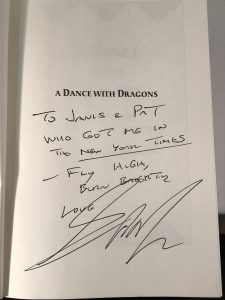 We all get nostalgic at times.
Here's a double dose, remembering a nice book from the Library of Janis Ian, now at the John Hay Library, Brown University: with the inscription above, George R. R. Martin presents a volume in his Game of Thrones series to Janis Ian and Pat Snyder, recalling their wedding at City Hall in Toronto on 27 August 2003, before same-sex marriage was legal in the United States. Martin was best man at the wedding, which was reported in the New York Times. It was Martin's first appearance in the paper.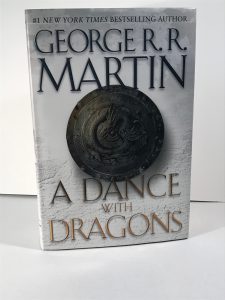 MARTIN, George R. R. A Dance with Dragons. Book Five of A Song of Ice and Fire. 8vo, New York: Bantam Books, [2011]. First edition. Boards. As new in dust jacket. Inscribed by the author on the half title. ¶¶ Inscribed by the author to Janis Ian: "To Janis & Pat who got me in The New York Times, Fly high, burn brightly, Love, George".