Description
A beautiful and dangerous book by Wendy Walker, with a preface by Daniel Levin Becker.
A necessary necromancer, Wendy Walker summons ghosts from the gaps of the gothic. SEXUAL STEALING is built from shattered mysteries; it offers liberation via constraint, renders renewal via revision, and wields erasure as a weapon of the marginalized. It looks like poetry and dazzles like magic, but this is a book of reckoning. Page by page, line by line, and word by word it reconfigures the act of reading.             — Matthew Cheney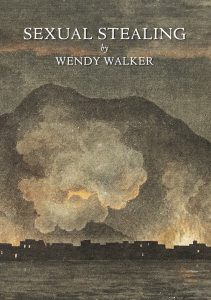 Now also available as a full color paperback, with all the original illustrations printed digitally to the highest standard. 192 pages, 7 x 10 inches, illustrated wrappers.
ISBN13 978-0-9961359-7-9. Retail price : $50.00.
SPECIAL INTRODUCTORY PRICE: $40 with coupon : WENDY
Distributed by LEVELLERS PRESS / OFF THE COMMON BOOKS, Amherst, Mass.
https://www.levellerspress.com/product/sexual-stealing/
SPECIAL INTRODUCTORY PRICE: $40 with coupon : WENDY
Aso available as an E-BOOK (pdf format). Illustrated, 192 pages.
ISBN13 978-0-9961359-9-3. Price $15.00.
Distributed by WEIGHTLESS BOOKS.
https://weightlessbooks.com/sexual-stealing/
SEXUAL STEALING is an interrogation of the Gothic, slavery, and sexual exploitation. Where the authors of the first Gothic novels set their tales in worlds safely distant in time and space from the conventions of late eighteenth-century England, Wendy Walker probes the obsessions and anxieties underlying these works, and dramatizes a tale of forcible taking, the brutal exercise of wealth and power, and the revolution that follows.
SEXUAL STEALING is formally innovative, written using a simple constraint to extract clues from Anne Radcliffe's The Mysteries of Udolpho. Walker has also selected quotations and images, chiefly from late eighteenth and early nineteenth century sources, to illuminate and comment upon the newly excavated text. Walker notes, "SEXUAL STEALING is poetic in that its form reflects its subject; it searches for a way to write the voices that are buried in full view, and subverts available genres to talk about something widely felt and intuited but not discussed."
Daniel Levin Becker's preface, "often pastoral often breathing", suggests ways of encountering the work: to read it as a novel, to listen to it as a song cycle, or to "join it as you would an insurgency." Walker discusses the formal structure of the book in an afterword. Her essay, Sexual Stealing and the Gothic, examines the roots of the Gothic novel in the legal extremes of England of the eighteenth century, where a person might own a human being and be at the risk of hanging for his homosexuality.
There are notes on the sources and a bibliography.
Wendy Walker is author of The Sea-Rabbit, or, The Artist of Life (1988), The Secret Service (1992), Stories out of Omarie (1995), Blue Fire (2009), My Man and other Critical Fictions (2011), and The Camperdown Elm (2017). She lives in Brooklyn.